Located in the Southern most point of Bedfordshire, close to the Hertfordshire border, the attractive village of Caddington is home to around 1200 houses and its residents. A village with history dating back to the 1400's, the village's hub is 'The Green' with its range of close local shops, pubs and the oldest building in the village, All Saints Church.
The village has two pubs 'The Chequers' is opposite 'All Saints Church' on Luton Road and offers you a friendly relaxed atmosphere with good food and a nice pint, whilst 'The Cricketers' in Manor Road offers a friendly family run pub with food, entertainment and pub games to enjoy. Caddington also has a Social Club where you'll find plenty of big screens for sporting events and the opportunity to join the Football, Cricket, Darts or Pool team.
Caddington Village School is a recent addition to the village, it serves Pre School, Early Years, Infant and Junior School age children with the catchment High School a free bus ride away and is located in Dunstable.
There is plenty to do with a number of clubs and societies for all age groups, there's an active Youth Club, kids Sports clubs, Brownies, Cubs, An Art Club, Yoga Classes, Pilates and Fitness clubs, WI, a local am dram society and many other groups to join and enjoy.
As a location Caddington is very well connected with 3 M1 junctions within 5 miles, 2 main line train stations close by and a few minutes drive to Luton Airport. Provincial towns of Luton, Dunstable, Harpenden and St Albans are all close by.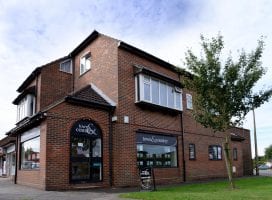 Estate Agent In Caddington
If you're searching for properties for sale in Caddington, or looking for a reputable estate agent in Caddington to sell or let your property, then please contact our Caddington Branch Manager Simon Robinson today on 01582 724600 or pop into the office on the corner of Manor Road. Our Caddington office also serves the local village of Slip End.